inControl Marketing and PPS
Working together to help vendors and resellers to market products and services better.
For vendors the marketing portal offers a consistent and relevant way of touching the consumer with measurable feedback.
"Simply providing the reseller with a stream of quality marketing material helps us and them to sell more product."
For resellers there's a consistent and relevant stream of great looking, branded channel specific marketing materials.
"Keeps our name in front of our customers, reminds them what we do, drives web traffic and with back office integration it really drives our targeted marketing activity." – Mark Rostock, Just Office
Bringing Marketing and Sales into alignment to support growth, productivity and profits. 
The aspiration is always to move toward relevant communications, to relevant people at relevant times.
Content is key to your ecosystem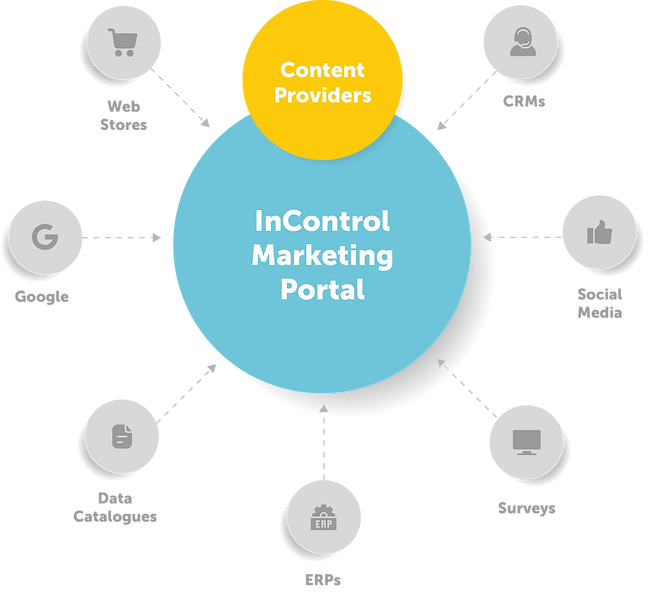 Productivity depends on systems that work well together. The ICM marketing portal integrates with the systems that matter to your reseller, including Twitter, Facebook, LinkedIn, Google, Fusion, Prima, EvoX, Oasis and Calidore and more.
ERP integration
The ICM marketing portal integrates with ERP systems such as Prima, Oasis and Calidore, making it easy to set up triggered campaigns and manage contacts.
E-catalogue integration
Emails and landing pages can be populated with data from e-catalogues such as Icecat, FusionPlus Data and EZ-base, making it quick and easy to create accurate, compliant campaigns.
But that's just the start.
The ICM Portal sits at the heart of your ecosystem to help you to work smarter, not harder.
Kickstart £25/€30 pm – limited offer, 6 month trial period 200 contacts max, 500 email sends pm max
Essentials £55/€65 pm 
Pro £99/€115 pm
Kick Starter
Essentials
Pro
# of users
1
4
4
# of contacts
200*
3000*
5000*
# of emails pm
500*
15000*
25000*
Mail list signup removed**
Self Serve
✓
✓
✓
Create Your Own
✓
✓
✓
Managed Campaigns
✓
✓
Drag and Drop Editor
✓
✓
✓
Drag and Drop Asset Libraries
✓
✓
Drag and Drop Document Downloads
✓
✓
Drag and Drop Fusion Data
✓
✓
Drag and Drop Snippets
✓
Triggered/Automated emails (limited)
✓
Triggered / Automated emails (unrestricted)
✓
(unrestricted inc Google Reviews and Surveys)
✓
Social Media Integration exc video
✓
Social Media Integration inc video
✓
✓
Tags (dynamic mailing lists) & Sales Engagement
✓
Real Time Reporting - base
✓
Real Time Reporting - advanced
✓
✓
Webstore integration
✓
✓
Deliverability Plan
✓
✓
Support Email
✓
✓
✓
Support Live
✓
✓
* Charges may vary subject to Buying Group